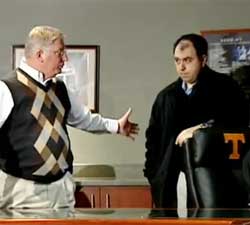 Too often, we let the sources set the terms. Even as (WBIR News Director) Bill (Shory) states this
obvious truth, the crowd of his peers nearly shouts him down, yelling
"Yes, he does!" That's absurd. This group of reporters in a major
sports market is so cowed by the university media machine that it
doesn't even know it's the victim here. Talk about Stockholm Syndrome.
Perhaps the new term for sports reporter/hostages who've spent so much
time under the thumb of sports information people they don't even know
they're victims anymore should be "Knoxville Syndrome."
One of the toughest indictments of Knoxville sports journalists I've ever read. It's a reaction to the YouTube video that shows the raucous pre-press conference negotiations between the media and University of Tennessee officials over the ground rules for a press conference in which Lane Kiffin would announce his departure as Tennessee head football coach. Kiffin wanted no questions, no live video or audio, and off-camera and on-camera statements.
WBIR News Director Bill Shory refused to go along with the off-camera/on-camera arrangement and several of his journalist colleagues tried to get him to back down and acquiesce to the demands. It was one last humiliation Lane Kiffin was angling for the University of Tennessee and the Knoxville media, a staged press conference with the USC man in complete charge of the spin.
"Knoxville Syndrome" is unequivocally unfair to many Knoxville sports journalists. There are several dedicated, highly ethical, hardworking journalists who cover sports in Knoxville. But if the term sticks, the city's sports journalists will be the subjects of psychology grad student theses for years on the factors that led to their "Knoxville Syndrome." For journalism groups, a panel discussion on how to avoid befalling it will become standard fare. I imagine someone is planning just such a panel at this moment — or should be..
It could be mentioned in textbooks. Had it not been for Shory and a couple others standing their ground, it most certainly would have been a completely depressing chapter in the YouTube history of journalism. It's like a pack of journalists were trapped in a "Big Brother" episode..
The YouTube video has gotten 193,250 views so far and the incident is being blogged extensively. Here are some more takes on it:
Jeff Woods: A Hero for Our Times: TV News Director Stands Up to Arrogant Flack, Wussy Reporters
Al Tompkins: As Tennessee Football Coach Resigns, News Director Stands Up for Full Coverage
Ben Garrett: Shory got it right
Jamey Tucker's BlogSquat: News Director Stands Up to Lane Kiffin and UT
Steve Safran writing on Lost Remote: WBIR-TV stands up to school – and other journalists
Instapundit: REAL JOURNALISM AT WORK: Bill Shory has an excellent reputation in this town, and for a reason
Jack McElroy: WBIR's Bill Shory is my hero
Katie Allison Granju: VIDEO: WBIR's Bill Shory shows us why real journalism still matters

Photo above shows Bud Ford of the University of Tennessee sports information office, arguing with WBIR-TV's Bill Shory over press conference ground rules.