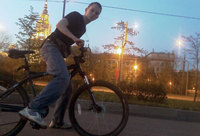 The Net buzz is about Google Buzz, which launched this week. It's an important product, another turning point in the development of Social Media, no doubt. But it's a week in which we were also reminded that game-changing ideas aren't the sole province of big companies with legions of brillantly smart people.
The New York Times discovered that Chatroulette, a site that connects you randomly to a Webcam user and has rapidly grown in popularity worldwide (often hosting 20,000 users at time at night) was developed by a 17-year-old … in Moscow.
Surprised?


I created this project for fun. Initially, I had no business goals with
it. I created this project recently. I was and still am a teenager
myself, that is why I had a certain feeling of what other teenagers
would want to see on the Internet. I myself enjoyed talking to friends
with Skype using a microphone and webcam. But we got tired of talking
to each other eventually. So I decided to create a little site for me
and my friends where we could connect randomly with other people.
— Andrey Ternovskiy, developer of Chatroulette.
(via venture capitalist Fred Wilson, who said: "I think we'll reach out to Andrey and offer him a visit to NYC. I'm
still not sure if this is something we should invest it, but I'd sure
like to meet this guy.")
Related articles found by Zemanta