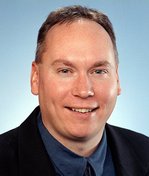 We've made one lineup change in our speakers for Friday's "Smart Phones for Smart Journalists" workshop in Nashville at the Freedom Forum's John Seigenthaler Center.
Due to an unforeseen obligation, Rob King of ESPN is unable to attend, but Patrick Steigman has graciously agreed to speak in his place.
Here is his bio:
Stiegman is Vice President and Executive Editor/Producer for ESPN.com, overseeing the site's day-to-day content planning and management of an award-winning team of more than 200 editors, writers and producers. His role includes strategic planning and cross-platform content development for ESPN Digital Media.

Stiegman in responsible for daily news, analysis, commentary, multimedia, editorial quality assurance and programming for the leading sports site. He was named vice president in November 2006 and added executive producer responsibilities in June 2007.

He joined ESPN in April 2004 after nine years as Vice President and Director of Internet operations for the Milwaukee Journal Sentinel and Journal Communications.
While at Milwaukee, he successfully executed a paid-content site "Packer Insider" (paid content is now the buzz again, it seems). We borrowed liberally on what Stiegman and Packer Insider were doing when we decided to do a paid version of GoVolsXtra. While we eventually returned GoVolsXtra to a free site, Packer Inside remains a paid-subscription site.
I'm jazzed about the prospect of hearing the latest of what ESPN is up to in the mobile arena from Stiegman.
It's not too late to join us. The full list of speakers is at the Online News Association's Web site. It's a bargain at $35. Sign up now!
The workshop is sponsored by ONA and the Freedom Forum / Diversity Institute. It is funded in part by support from the Scripps Howard Foundation and Cell Journalist Inc. of Nashville.
In addition to myself, the committee planning this training opportunity includes Patrick
Beeson of the Scripps Interactive Newspaper Group in Knoxville, Cory
Haik of the Online News Association and The Seattle Times, Val Hoeppner
of the Freedom Forum, Jack Marsh of the Freedom Forum, Jane McDonnell of
the Online News Association, Ken Sands of the Online News Association and Bloomberg,
Sherry Salko of the Online News Association, Knight Stivender of The
Tennessean, and Tracey Trumbull of the Chattanooga Times Free Press.

Note to attendees; Parking is available in the surface lot across the street from the Seigenthaler Center. Note: Do not park in the two-story deck. Also, if you Twitter the sessions, try to use the hashtag #onanash so everyone can keep track of the conversations.