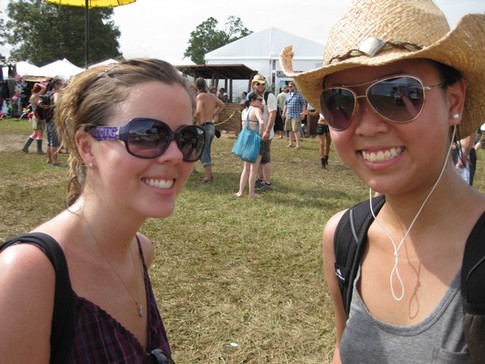 If you're into Boonaroo, there's no better place to follow happenings (whether you are there or not) than our Bonnaroo section on knoxville.com and our Bonnaroonews Twitter stream.
We've posting our stuff and linking to the rest! We have one of larger coverage teams this year with Wayne Bledsoe, Lauren Spuhler, Saul Young and Linda Nguyen.
Here's the most recent coverage as of early Saturday morning (See Knoxville.com for the latest).
Bonnaroo creates home for imposters
: I've said before that Bonnaroo is another planet. It actually goes beyond that. Online intern Linda Nguyen discusses the trend of posing as characters throughout the festival.
Nine shows in nine hours: An intern's guide to rocking your face off
: There is so much to do and see at Bonnaroo. So, how does the average avid music lover get to see his or her favorite bands in one day? Online intern Linda Nguyen has four general rules to making the most out of your Bonnaroo experience.
Wale makes his entrance at Bonnaroo
: I love that there's hip-hop at Bonnaroo. I wish there was a lot more of it.
A latecomer's guide to Bonnaroo
: So you got up this morning thinking you might head to Bonnaroo.
Bonnaroo already wet and wild and muddy
: Here's a look at what others are writing about the Bonnaroo music festival outside Manchester.
Bonnaroo all about the experience
: Bonnaroo is all about the experience — from camping out to enjoying a plethora of bands, meeting people from all over the country (and the world) to helping out the community at-large.
Bonnaroo advice for the summer intern
: "You're the mentor," my intern told me yesterday. I'm sure it was said partly in jest, but I'm taking it.
Ten reasons why Bonnaroo is another planet
: Knoxnews online intern Linda Nguyen describes her first impressions of Bonnaroo 2010.
Bonnaroo: A personal list of pros and cons
: I don't know why I keep doing this. I'm a single man in my thirties who should be at home soaking his bad knees in hot water while spray painting hair on a bald spot. I should be resting comfortably in elastic-waisted pants eating greasy potato chips. I should be looking over my dwindling 401k while cursing my bad financial advisor. I should be watching late night television while ironing a wrinkle-free dress shirt. And I should be appeasing my mother's incessant nagging on my inability to provide her any legitimate grandchildren. Instead, I'm galavanting about with kids half my …
41,000 fans turn out for Bonnaroo's 1st day
: MANCHESTER, Tenn. – The 2010 Bonnaroo Music and Arts Festival opened with relative calm Thursday.
Thunderstorms raked through the area just as the gates were opening, making things slightly soggy and muddy, but the dark clouds that loomed over the opening day never broke loose with a deluge.
Bonnaroo 2010 opens with relaxed mood
: It's a little muddy, but Bonnaroo 2010 off to a calm start. Stevie Wonder, Jay-Z and the Dave Matthews Band among the show's headliners.
Break out your deodorant, it's Bonnaroo time
: Is it really already time for communal showers, Porta-Johns and sweat-drenched people everywhere you look? Bonnaroo 2010 opens its gates this Thursday in the wee town of Manchester, Tenn.
Bonnaroo's appeal spans generations of music fans
: Bruce Springsteen. James Brown. Tom Petty. B.B. King.
Bonnaroo-bound Dave Matthews ready for a break
: The prospect of a year off touring in 2011 has Dave Matthews hatching a few ideas – although he notes that "I'm much better at not having any plans. The success of my career … has depended heavily on me having no control over it."
Bonnaroo 2010: What a long, strange trip it's been
: Who would've thought eight years ago that the music festival that shut down little Manchester, Tenn., would become a yearly institution? A rite of summer? The biggest, most successful music festival in the country? The 2010 Bonnaroo Music and Arts Festival is June 10-13. Here's a look back on how it's grown.
Grudge Match: Bonnaroo vs. Xanadu
: We compare two pop-culture subjects to see which you like better. To be included in next week's tally, vote for your favorite before noon Monday. This week's match: Bonnaroo vs. Xanadu.
Photo caption: Online producer Lauren Spuhler and online intern Linda Nguyen show off their hipster sunglasses at Bonnaroo 2010.
Common sense dictates that sex and fire don't go very well together, but it does seem to make for a good Kings of Leon song. #bonnaroo.Sat Jun 12 03:36:10 via SocialScope
Saul Young
saulyoung