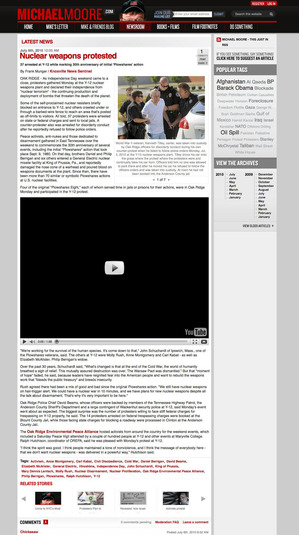 Michael Moore is an artistic and intellectual thief.
Yes, Michael Moore, the American filmmaker, author, political commentator and self-professed liberal who enjoys the skewering the ethical transgressions of corporate organizations.
Yes, Michael Moore of the documentary films Roger and Me, Bowling for Columbine, Fahrenheit 9/11, Sicko, and Capitalism: A Love Story.
Yes, Michael Moore, an unabashed and unrepentant nose-thumber at copyright protections. Hey, it's just a federal law.
On July 5, while most Americans were enjoying a Fourth of July day off, Knoxville News Sentinel reporter Frank Munger and photographer Michael Patrick were out in the 90-degree heat covering peace protesters at the Department of Energy's nuclear weapons facilities in Oak Ridge, Tenn.
In addition to calling in Web updates and writing a story for knoxnews.com and for next day's print edition, he shot a short video. Patrick shot several photos that were used in a photo gallery.
Despite a prominent copyright notice on every page of the website, Michael Moore's website took the entire article and posted it online.
The video Munger shot was grabbed, the Knoxnews logo was clipped out and a new copy posted to Michael Moore's YouTube channel complete with video credits for Munger at the end.
Early Friday, I filed on the behalf of the Knoxville News Sentinel (my employer) a "take down" notice with YouTube and the pilfered version of the video was removed by YouTube by Saturday afternoon.
I also submitted the contact form on the michaelmoore.com website directed to the website administrator demanding our photos, which had also been snagged from knoxnews.com, be removed.
So far, they haven't.
It's not that we're opposed to sharing our content. We like other sites to link to our content and we also heavily link out to sites other than own.
The video we posted on knoxnews has embed code that allows it to be legally be placed on another site, as does the version of the video we posted to our YouTube channel. It's just a simple cut-and-paste of a code snippet. But why bother, it's only someone else's work product.
A thumbnail of one photo (the ones posted are larger than thumbnails) and a link to the gallery would have been great. But why bother, it's only someone else's work product.
An excerpt of the article with a link to the complete story would have been excellent. But why bother, it's only someone else's work product.
From a look at some other content on the site, MichaelMoore.com makes a regular habit of reposting copyrighted work in total without adding any type of additional value.
Did Michael Moore personally misappropriate our copyrighted material? I don't know, but he has to take responsibility for the website that bears his name.
And that's the awful truth and Michael Moore.
(Photo: Screenshot of MichaelMoore.com page with News Sentinel story and photos. By the time I grabbed this, the video they had taken from knoxnews.com and uploaded to YouTube had been removed. Click on the photo to see a larger version.)
Update: Welcome Instapundit readers! Click here to return.