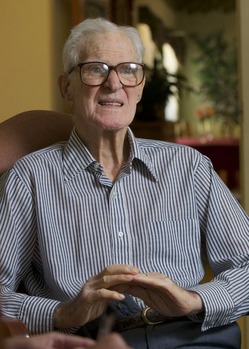 This week came news in my hometown newspaper that Henry King had died at age 91.
Henry King was a cotton mill worker in a mill town called Franklinville, who began submitting articles to the newspaper and it began to print them. He eventually left the mill, but not the mill town for writing. He didn't get his first full-time job as a newspaper writer until he was 40.
I worked with him in the small newsroom of the Courier-Tribune in Asheboro, N.C. in the late 70s and early 80s. Chip Womick of the Courier-Tribune, who knew King for many years, does a good job of taking his measure.
He quotes North Carolina writer Jerry Bledsoe saying:
"It made The Courier-Tribune a special paper having Henry in it. You always knew that Henry was going to have something interesting and entertaining to read. He just had to be poking in the back roads. He was always going down little trails and finding interesting people.

"There are just so few people like Henry, with his curiosity and his ability to write and his love of people. He was just an astounding man. It's just a great loss."
Bledsoe, who worked as a columnist for several newspapers, knows a thing or two about good writing. He's written numerous books including "Bitter Blood: A True Story of Southern Family Pride, Madness, and Multiple Murder," which was made into a TV movie; 'Death Sentence: The True Story of Velma Barfield's Life, Crimes, and Execution (Barfield was the first women to in the United States to be executed by lethal injection … if you like to keep track OF such things), and "Blood Games: A True Account of Family Murder."
Womack quotes King as saying he never watched daytime TV and never listened to the radio while driving around in his car. He was always looking for stories or lost in his own thoughts.
King could find a story in anything or any person. King never once said "there's nothing there" or "there's no story."
A woman said if an acorn fell from a tree, he could write a column about it. He proved her right. A man said he could spin a tale from a horse's footprint and he proved him right, too.
He got a column out of our wedding, tying in the LoveLady Fire Department for extra measure.
I think he "discovered" Rufus Hussey, the "Bean Shooter Man." If he didn't, he certainly had already interviewed long before Johnny Carson had him his show or Charles Kuralt visited. In a long running series in the newspaper on places, usually a rural crossroads or maybe just a wide spot in the road, he would always found someone who said some version of: "I've always lived here and wouldn't live anywhere else."
A man of many interests, who read widely, and had a genuine interest in people, he could interview politicians, celebrities, and the rich and powerful, but what he enjoyed was pulling the stories out of people who had never been in the newspaper and never would be again until their obituary notice.
In "retirement," he wrote at least seven books and created two nature libraries.
I count myself fortunate to have known him.
(Photo from the Coruier-Tribune)