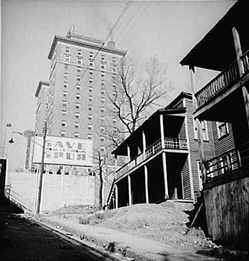 In my Google Alerts over the weekend was a piece from the Arcane Radio Trivia blog on the history of WNOX.
It reminded me of Knoxville's rich radio history, particularly with WNOX, the first radio station in Tennessee (yes the first) and the 10th (or the eighth depending on who is counting) in the nation.
It is also interesting that it was started by a 16-year-old.
Here's a bit of the history:
In 1935 WNOX was sold to the E.W. Scripps Company which also owned the local newspaper, the Knoxville Sentinel. The Scripps Company hired announcer Lowell Blanchard in 1936 to and told him to hire more hillbilly performers. It was probably their plan to compete better with the upstart WROL. He began the variety program called the Mid-Day Merry-Go-Round. It became an institution. It mixed comedy, dixieland, swing and live Hillbilly performers. It was not a pure country program by any stretch but it went head-to-head with the Farm and Home Hour on WROL. In 1936 it's star Roy Acuff quit to work at WROL. They were now rivals, not just competitors.That would last into the 1940s. In March 1941, WROL moved to 620 AM; they changed calls to WATE and began doing more news.
The station helped start the careers of Archie Campbell, Homer and Jethro, Roy Acuff and many others. One of the homes of the station was the Andrew Johnson Hotel shown here in a photo taken around 1941.
Local journalist and author Ed Hooper published a book about the WNOX in 2009: Knoxville's WNOX (Images of America)
. The station in its heyday was said to have a range from New York City to Daytona Beach, Fla.
Photo from the Library of Congress.