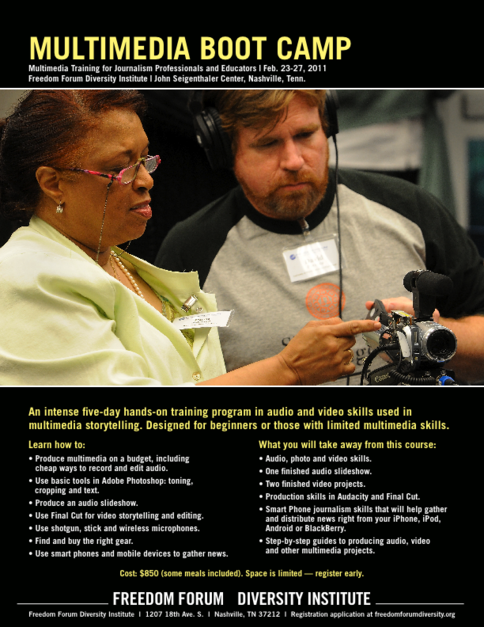 From Val Hoeppner:
Freedom
Forum New Media Training at the Diversity Institute will offer a
Multimedia Boot Camp for Journalism Professionals and Educators Feb.
23-27, 2011.
Registration is available immediately and on a first-come, first-served basis. Follow this link to register online: https://www.surveymonkey.com/s/REGISTER4bootcamp
The multimedia training is tailored for journalists but open to anyone
with an interest in multimedia storytelling, regardless of the
individual's background.
For an additional charge, successful participants can earn 3 college
credits. The courses are accredited by the Media Studies Department of
Belmont University, which awards the credits.
Journalism educators, professionals, students and others can develop and
hone their skills in audio, photo and video storytelling at the boot
camps.
Tuition is $850, payable in advance. Registrations for the Feb. 23-27
class will be accepted until Feb. 7. Once classroom capacity is reached,
registrations will be cut off.
Information about hotels near the John Seigenthaler Center can be found on our website.
Questions may be directed to lead instructor Val Hoeppner at [email protected] or 615/426-7160.
The hands-on training is modeled after the Freedom Forum's acclaimed
multimedia curriculum and is equivalent to a 3-credit-hour college
course. It is designed for those with limited or no multimedia
experience. The schedule is intense.
The training will occur at the Diversity Institute's state-of-the-art
school facilities in the Freedom Forum's John Seigenthaler Center, 1207
18th Ave. South, Nashville, Tenn. Tuition covers all supplies, use of
multimedia equipment and software during training, some meals and
step-by-step guides to producing audio, video and other multimedia
projects.
Participants will learn how to:
• Produce multimedia on a budget, buy the right gear and find cheap ways to record and edit audio.
• Use basic tools in Adobe Photoshop: toning, cropping and text.
• Edit an audio story with Audacity, a multi-track editing software.
• Produce an audio slideshow in Final Cut.
• Produce two video projects, using Final Cut for storytelling and editing.
• Knowledge of smart phones and how they can be used to gather news.

To register for boot camp:
https://www.surveymonkey.com/s/REGISTER4bootcamp

For more information about multimedia boot camp:
https://freedomforumdiversity.org/workshops-and-conferences/2010/12/16/multimedia-boot-camp-i-offered-feb-23-27-2011/
The Diversity Institute was established and funded by the Freedom Forum
as a school dedicated to teaching journalism skills and First Amendment
values by advancing news media diversity, fairness and excellence. The
Freedom Forum Diversity Institute, Inc., is a Tennessee public charity
corporation with offices, staff, programs and classes at the John
Seigenthaler Center in Nashville, at the Al Neuharth Media Center in
Vermillion, S.D., and at the Freedom Forum headquarters and Newseum in
Washington, D.C.
The tuition fee, payable at the time of registration, is non-refundable
if the participant fails to show up, drops out or cancels within 30 days
of the program's start. However, if the cancellation is due to an
unavoidable personal or family emergency, the tuition payment may be
credited to a future class when space is available.