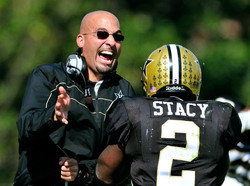 Anybody that has ever been involved in a culture change or newsroom transformation effort has got to appreciate what Vanderbilt University football coach James Franklin has accomplished.
He has more wins in his two years at the prestigious private university in Nashville than any Vanderbilt coach since 1904-05.
The team is bowl-bound for the second year in a row, a first.
It was evident in the historic win Saturday night over Tennessee, that the team believed it could beat its in-state conference rival, something not seen in Vanderbilt teams or its fan base in many a year.
The 41-18 beat down of the Volunteers was the Vanderbilt's biggest win over the Tennessee since 1923, when Minnie Pearl was just 11.
This from the school that had been marked a "W" for most Southeastern Conference schools as soon as conference schedules were released. Vanderbilt's football peer group is Northwestern and Duke; it has to play Alabama and LSU.
I got to hear Franklin this summer at the 247Sports Publishers' Conference.
He described himself as "a very passionate emotional psycho." I'd agree. And if you watch him in the sideline, you'd believe him, too. But his passion is winning over doubters.
Franklin talked about how he is trying to change the mind set and culture of not only Vanderbilt's players, but also it's students and fans, the Nashville community, fathers and mothers of high school football players and just about anyone else that will listen to him for at least 30 seconds.
He is a loud, tough, blue-collar Philly guy who excelled as a quarterback at a small college.
His method for changing culture is uncomplicated and managable: "You just take it one bite at a time."
It's gritty and old school. He believes success comes from optimism ("we will nearly always get what we expect"), hard work (just out work 'em), attention to detail (pay attention to process) and a collective commitment to excellence.
It's simple and a bit crazy: "I'm asking you to invest more than it might make sense."
Whatever, it's working. He's changed perceptions. He's changed a culture. He's changed hearts.
Yet, a newsroom of cynical journalists isn't quite the same as a locker room of impressionable young college football players when it comes to changing what people believe or how they act.
I wouldn't tell Franklin that. He's coaching in the toughest college football conference in the country, where losses mean firings (two coaches have been fired this after their games with Vanderbilt).
"A leader's job is to set the standards and set the expectations. I believe the sky is the limit," he said.
We could use a few more "sky-is-the-limit" emotional psychos like James Franklin in our newsrooms, don't you think?
(Vanderbilt University photo of James Franklin.)