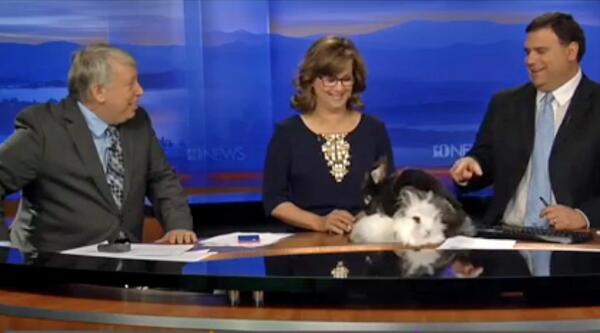 Local TV station WBIR has been in the news as an Easter segment last week went viral.
What made everything from Gawker to the Today Show were some bunnies that in an on-air segment in front of the anchors did what … ah … rabbits often do.
The Gawker headline: "Bunnies Have Sex Like Bunnies on Local News Channel's Easter Broadcast"
And CNN:
Things got a little awkward when these fuzzy guests decided to get frisky during @wbir's live newscast. Video: https://t.co/0QKj6FxwSH

— CNN Video (@CNNVideo) April 21, 2014
Even another Gannett TV stations have had fun with it.
Today's award for most awkward TV moment goes to our sister station @WBIR; Watch –> https://t.co/efo9MCKR4z pic.twitter.com/PBYv1LBoVl

— KHOU 11 News Houston (@KHOU) April 18, 2014
For its part, WBIR and staff have had a good sense of humor about it and are just rolling with it.
#BunnyLove made the @TODAYshow !!! SEE IT: https://t.co/F5w436OCYv pic.twitter.com/gzpSkBzw4n

— WBIR Channel 10 (@wbir) April 22, 2014
Here's Christy Moreno, WBIR News Director:
Playboy Bunnies. Best title yet! pic.twitter.com/8aXknw7VPi

— Christy Moreno (@christyWBIR) April 22, 2014