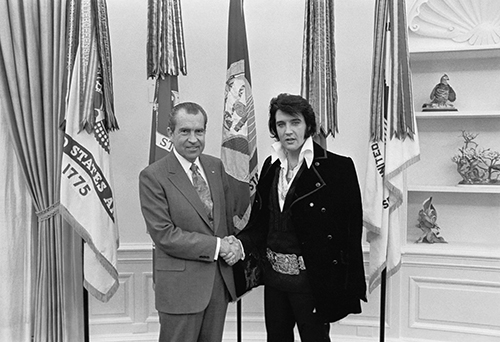 Interesting project!
University of Tennessee news release:
KNOXVILLE–As President's Day approaches, University of Tennessee, Knoxville, Journalism Professor Michael Martinez is busy studying U.S. commanders-in-chief through the lens of the White House photographers.

Since John F. Kennedy started the tradition of hiring a White House photographer, these cameramen have given the public a close, sometimes intimate, look at America's first family. Martinez is working on a book looking at the public's memory of U.S. presidents as portrayed through these photographs.

Martinez, who spent years as a photojournalist, graphics editor and web producer, is particularly interested in Gerald Ford's photographer, David Hume Kennerly. He received a grant from the Ford Library to research the relationship between Ford and Kennerly, and he hopes to interview Kennerly soon.

"There are two main things I'm very curious about," Martinez said. "Ford knew Kennerly for only about a week before he offered him a job. Why Kennerly instead of, say, one of the press corps photographers? And also, what does Kennerly think his influence was on the president?"

Martinez said Kennerly was given more access than any other presidential photographer. He was free to walk into most any meeting. He enjoyed cocktails with the president at the end of the day. He took photos of Betty Ford as she recuperated from breast cancer surgery. He was friends with the Ford children–and even conspired with them to convince their parents the family needed a dog.

Ford reaching down to pet his golden retriever, Liberty, while working at his desk in the Oval Office in November 1974 is one of Martinez's favorite shots.

"It kind of epitomizes the humanness," Martinez said.

Records also hint that Kennerly had the president's ear.

Once a war correspondent, Kennerly convinced Ford to let him travel with a general sent to Vietnam to evaluate the war situation.

"He wanted to show President Ford his version of Vietnam as opposed to the military version," Martinez said. "He showed him refugees and the suffering. I want to ask him how he thinks that affected Ford's policy on Vietnam."

Studying papers in the Ford Library, Martinez also found evidence that Kennerly spoke up during at least one high-level cabinet meeting, expressing his thoughts on how the U.S. should respond to the Mayaguez seizure by Cambodia.

While Kennerly's work is central to Martinez's research, he's looking at other presidential photographers, too. Aside from Kennerly, there are four who are still living: David Valdez, who worked for George H.W. Bush; Bob McNeely, who worked for Bill Clinton; Eric Draper, who worked for George W. Bush; and Pete Souza, who works for Barack Obama.

He has another grant from the American Journalism Historians Association to do some research at the LBJ Library in Austin, Texas, this summer. He's planning to make it a road trip, stopping along the way at Bill Clinton's library in Little Rock, Arkansas, George H. W. Bush's library in College Station, Texas, and George W. Bush's library in Dallas.

The relationship between the president and his photographer often reveals something about the man in the Oval Office, Martinez said.

Media-wise presidents, like Kennedy and Reagan, gave their photographers more leeway, while presidents who struggled with their public personas, like Johnson, Nixon and Carter, were more cautious about having their lives documented on film.

"Because he'd taken such a beating in the presidential debates, Nixon was very concerned about his image. Nixon very much stage-managed everything," Martinez said.

Yet, interestingly, the most requested presidential photo from the Library of Congress is White House photographer Ollie Atkin's portrait of Nixon with Elvis Presley. "It's OK, but it's not a dynamic photograph," Martinez said.

Jimmy Carter didn't have an official White House photographer.

"Carter was confrontational with the media sometimes. I don't think he was as media savvy."

Despite the differences between the photographers and their access to the presidents, there is a common thread. "They are passionate about their work," Martinez said. "They see their role as documenting the presidency for posterity."

Martinez worked at the Associated Press in New York, the Louisville Courier-Journal, the Detroit News, the Cincinnati Enquirer and the Fort Worth Star-Telegram. He covered presidential and vice presidential debates, a political convention, four Super Bowls, the Timothy McVeigh trial and two Olympics–Lillehammer 1994 and Atlanta 1996. He also worked for four Olympic organizing committees: Sydney 2000, Salt Lake City 2002, Athens 2004 and Beijing 2008.

—

CUTLINE: President Gerald Ford and his golden retriever Liberty in the Oval Office. Photographed by David Hume Kennerly on Nov. 7, 1974. Photo courtesy Gerald R. Ford Library.

CUTLINE: Elvis Presley meets with President Richard M. Nixon at the White House. Photographed by Ollie Atkins on Dec. 21, 1970. Photo from the National Archives and Records Administration.