Alison Bethel McKenzie, the new executive director of the Society of Professional Journalists, will speak to the East Tennessee SPJ chapter on May 10.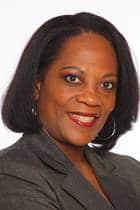 McKenzie, the first African-American to serve as SPJ executive director, will speak at 7 p.m. at the Knoxville Entreprenuer Center, 17 Market Square Suite 10 (in the building where the Knoxville Chamber is).
She was named the 20th executive director of the national journalism organization in February.
A native of Miami, she was executive director of the International Press Institute for five years. The Institute is the world's oldest global press freedom organization and is based in Vienna.
She was the first American, first woman and first African-American to to be its executive director since it was founded in 1950, according to an SPJ news release.
She has worked as a visiting professor of print and investigative journalism at the Indian Institute of Journalism and New Media in Bangalore, India.
Bethel McKenzie was a Knight International Journalism Fellow in Ghana in 2008-09, managing director of the Nassau Guardian in the Bahamas in 2007 and executive editor of the Legal Times in Washington, D.C., in 2006-07.
She has also worked at The Los Angeles Times and The Miami Herald.
Early in her career, she worked as a reporter and editor at newspapers in Louisiana, New York and Michigan. She was deputy business editor and senior assistant city editor at The Boston Globe and Washington Bureau Chief for The Detroit News.
Bethel McKenzie is a journalism graduate of Howard University She studied non-profit leadership at Harvard Kennedy School of Executive Education and is nearing completion of an MBA in media leadership at the University of Cumbria (U.K.) in collaboration with the Robert F. Kennedy College (Switzerland).
Please join us on May 10.