One of the biggest worries electric vehicles is how practical is it to take an electric car on a long road trip.
Typically, the first question about an electric car is: "What's the range."
The short answer is to just give the EPA rated range, but the long answer is more complicated with speed, elevation gain or loss, temperature and driving style in the mix. And if you can't get to the next Supercharger when "it's empty;" what does it matter?
I just got back from an over 1,600 mile roundtrip in my Tesla Model Y long range all wheel drive. It was my first extended road trip in the car, which I got last summer.
Here are the top line stats:
Total miles: 1,635.46
Time Driving: 1 day , 3 hours, 23 minutes.
Wh/Mile: 282 Wh
Average Temp: 56.03 degrees
Time Spent Charging: 4 hours, 10 minutes.
Supercharger costs: $125.37
(All data from Teslafi.com.)
I used the popular A Better Route Planner to map out my trip, A Better Route Planner differs from Tesla's built-in navigation by trying to optimize charging time with shorter charges, but more frequent stops.
This works because a low battery charges faster. The charge rate or speed slows down as the battery charges up. Charging from 80% to 90% can be slow, but charging from 10% to 40% is relatively quick.
I used the Tesla navigation to go from A Better Route Planner charger stop to charger stop instead of letting Tesla figure it out for the trip. I'm convinced this did save time, although there is more time spent getting on and off the interstate with A Better Route Planner.
In my trip from Knoxville, Tenn., to Stone Ridge, N.Y., with overnight stops coming and going in Winchester, Va., I did 15 charges (which included starting a second charge at one location to get little more juice.
Being my first long road trip, I was conservative and added a percent or two extra to the A Better Route Planner number. I never got to the next charger with less than A Better Route Planner's forecast so it was accurate for the driving conditions. And Tesla's navigation and A Better Route Planner were very close on what that arrival state of charge would be.
The trip had four legs: Knoxville to Winchester, Winchester to Stone Ridge, Stone Ridge to Winchester and Winchester to Knoxville.
Knoxville, Tenn., to Winchester, Va.
I left Knoxville with the battery charged to 94% and arrived at the Bristol supercharger 121 miles later with a 35% state of charge and charged to 58%. I was there about eight minutes (after finding it in The Pinnacle shopping complex).
The next stop was Wytheville, Va., 76.6 miles up Interstate-81, where I stopped for 25 minutes and charged from 25% to 66%.
Nearly two hours and 119 miles later I stopped at the Lexington, Va., supercharger and spent 15 minutes charging from 22% to 63%.
Both the Wytheville and Lexington supercharges are at Holiday Inn Express locations and are very convenient to get in and out of.
My next stop was an an hour and 38 minutes, or 109 miles, later in Strasburg, Va., where I stopped for 35 minutes and charged from 18% to 90%.
Strasburg is not far from Winchester and this was really my charge for the start of the drive the next day.
This supercharger is at an odd location, a closed Denny's. Not sure if the restaurant is a victim of the pandemic or something else.
(I did not stay at a hotel with a destination charger on any of the four nights on the road.)
Winchester, VA. to Stone Ridge, N.Y.
Left Winchester the next morning and about 102 miles later stopped in Carlisle, Pa., at the supercharger at a Sheetz station, charging for 15 minutes from 33% to 72%.
About two hours and five minutes later, the next stop was the Shoppes at Montage in Moosic, Pa., where I charged from 18% to 78% in 24 minutes. I never did figure out if there were public bathrooms not in a restaurant there.
Some two hours and seven minutes later I arrived at my destination in Stone Ridge, about 325 miles from my start in Winchester in the morning.
Early the next morning, I charged at the Kingston, N.Y. supercharger some 10 miles from Stone Ridge at a QuickChek.
On all the other charges, the car had time to "precondition" before charging, but not so much on this charge, I also charged to 85%. I started with a cold battery and it took 33 minutes to add 51% to the battery (34% to 85%).
It was just after 7 a.m. so I thought I would probably have the supercharger to myself, but a Model X rolled up soon after I arrived.
Stone Ridge, N.Y, to Winchester
After spending the day in the Stone Ridge area, I left the next morning for Winchester.
First stop was back at the Moosic supercharger, where I added 42% to the battery 11 minutes (from 27% to 69%).
Then it was onto the Sheetz station in Carlisle, Pa., where I added 50% to the battery going from 18% to 68% in 17 minutes.
I deviated from A Better Route Planner an hour and 11 ,minutes in that leg of the trip with with a five minute stop at the Martinsburg, W.Va., supercharger, again at a Sheetz station. I added 14% to the state of charge and left with the battery at 52%.
Winchester, Va. to Knoxville, Tenn.
Because of the state of charge when I left Winchester the next morning, I skipped Strasburg and stopped on down the road at the Mount Jackson, Va., supercharger at yet another Sheetz station. I charged from 13% to 50% in 13 minutes.
Next was the return stop to the Lexington supercharger, where I charged from 16% to 69% in 20 minutes.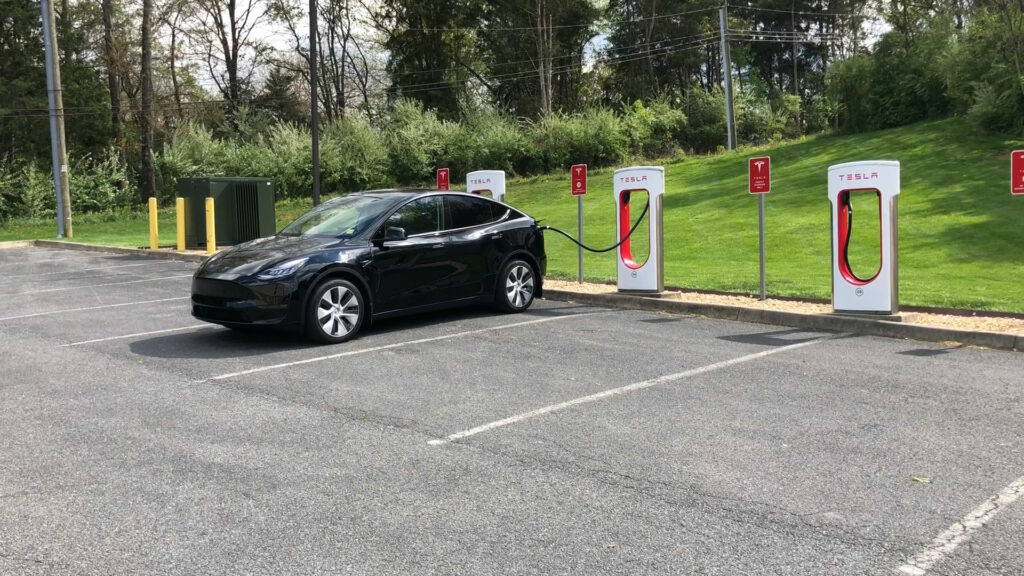 The return Wytheville stop was 11 minutes with 34% added to the battery (18% to 52%).
Next was the return to the Bristol supercharger, where I sat for 15 minutes charging from 21% to 53%.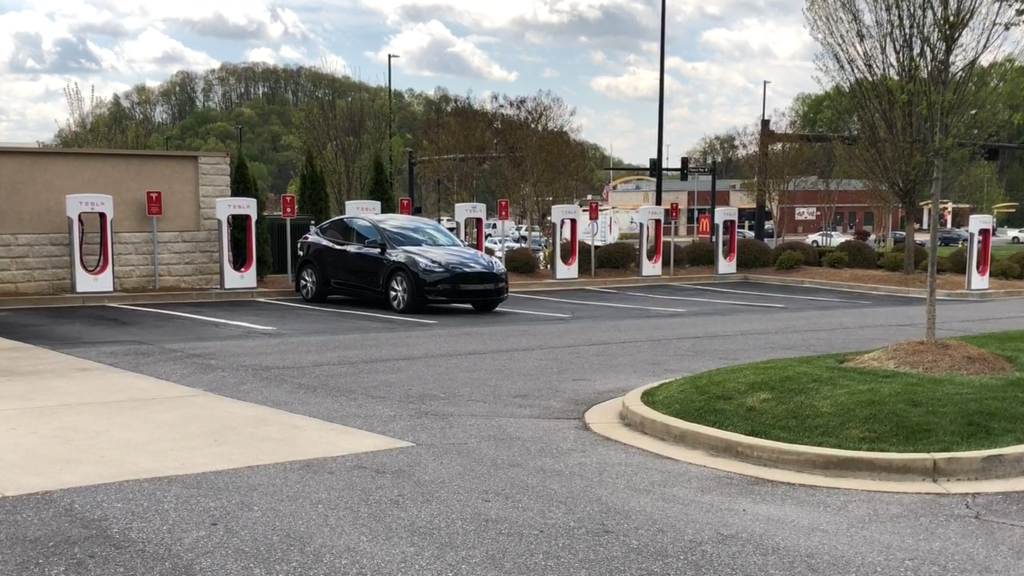 As you can, I never cut it close getting to a supercharger, with the lowest state of charge at arrival at 13%. Obviously, I could have reduced my charging time by a few minutes at several stops.
I tried to drive 72-73 in the 70 mile per hour zone, but my average speed was lower due to an abundance of road construction and congestion around the larger cities.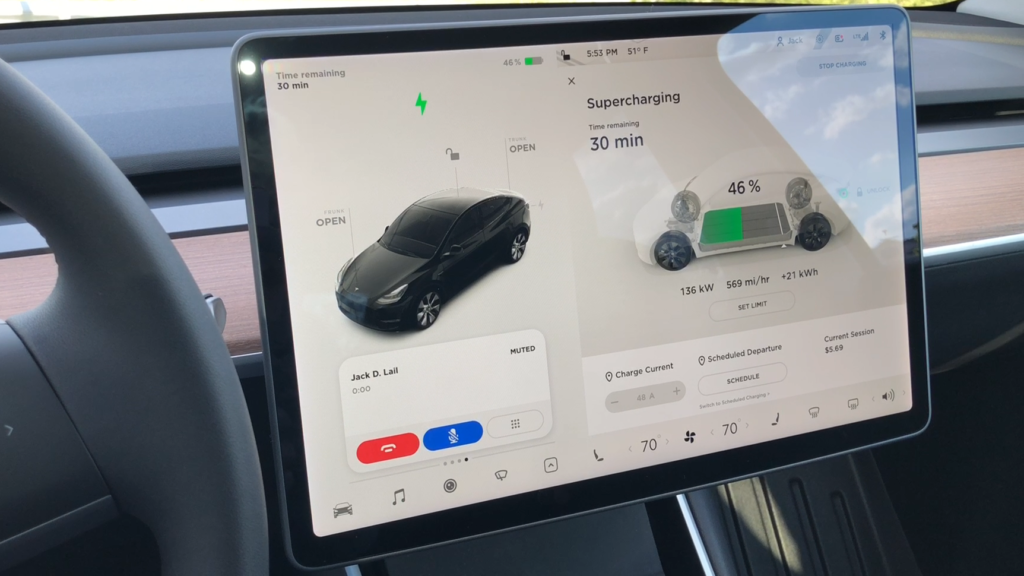 The 282 Wh/mile works about to a range of 256.65 miles based on 72.5 KWh of usable battery (there is a bit of debate about usable battery size, and battery degradation figures in, too).
I have been using 233 Wh/mile as the Watt hour per mile to get the rated 319 miles so my results were pretty good for highway driving. My "lifetime" average Watt hours per mile is 251.
TeslaFi estimates my total range at 311.98 with a 2.24% loss from battery degradation. When I purchased the car, the range was estimated at 314.21 and then it was increased to 319 due to a software update so my net loss is 0.71% after nine months of ownership. Not bad!
The superchargers were only really busy at one stop, the Day One stop in Wyetheville, Va., where there was one stall open when I arrived, but that cleared quickly.
I never found a charger out-of-service.
I was ready for a bathroom or snack stop at most of the stops.
Thinking of buying a Tesla or its solar panel system?
Use my referral link to receive 1,000 free Supercharging miles with the purchase and delivery of a new Tesla car. Earn a $100 award after system activation by purchasing or subscribing to solar panels: https://ts.la/jack65708.