I bought a Tesla Model Y Long Range, my first electric car, in the midst of the Pandemic sight-unseen. No test drive. No look at a friend's car. Never sat in a Tesla or electric car of any kind.
I've learned a lot since then.
Here is what I know after three years of ownership of my first electric vehicle.
If you are thinking about buying a Tesla, or are one of the many new owners, you may find my experiences useful.
Vehicle Details
My Model Y, or MY, is "solid black" with stock 19-inch Gemini wheels, black interior and Full Self Driving software upgrade.
The odometer reads 29,577.
The software version is 2023.7.20 with "Full Self Driving" Beta Version 11.4.4.
I took delivery in Nashville on July 16, 2020 after placing an order on May 7.
The price including destination charge and state and local taxes was $64,205.30. Full Self Driving (FSD) is $8,000 of that price and the "solid black" color was $1,000 extra at the time. (White was the free color.)
Based on the vehicle information number, I believe it is one of the first 20,000 MYs built and it was made at the Fremont, Calif. plant, the only location the MY was being built in at the time.
Driving
It's a wonderful car to drive. I like the tech, the big screen, the minimalist interior design. "One foot" driving was easy to adjust to. I like using my phone as the key and that the car unlocks when I get near it. Sound system is great.
I have driven the car from Knoxville to upstate New York, to Washington, D.C. a few times, to Piedmont North Carolina multiple times to visit my folks, to Nashville, to Atlanta, to Chattanooga, often to Wolf Laurel in the North Carolina mountains where we have a family house, to Atlanta, to Columbus, Ohio and to Charleston, S.C.
Range hasn't been a worry because of the Tesla's great network of fast chargers.
I have used a non-Tesla DC fast-charger or Level 3 charger, a handful of times. I have only had to "stand in line" for a charger once and that was for less than 10 minutes.
I do pre-plan trips to get an idea where the stops along the way will be. And I do worry about how busy Superchargers will be when they opened up to non-Tesla vehicles.
So far, Tesla has done an outstanding job of expanding and building out its network of chargers.
But a difficult — and the most frequent — question to answer from internal combustion engine (gas car) owners is "How much range does it have?" I try to address that below.
Charging
As soon as I ordered the car, I bought the Tesla Wall Charger and had an electrician install it for what turned out to be a couple of months in advance of having the Tesla.
The charger is very close to the electrical panel so it wasn't a very expensive install, around $850 total: charger ($450 including tax) and install ($300).
It's on a 60-amp circuit and can add about 44 miles of range an hour.
I had some issues with the wall charger and Tesla sent me a new one, but not before I had to have the original electrician back to verify everything was wired correctly and snug.
The Wall Connector is on my WiFi network and Tesla's support staff can review its log files. Updates are occasionally pushed to it. Since it has no buttons, any changes to its settings have to be done by logging into its web interface.
You can often get by charging on a regular wall outlet, but you'll tire of it. I recommend you install some type of Level 2 charging if you are homeowner. Using the Tesla Mobile Charger on a dryer-type outlet (NEMA 14-50) will let you charge at 27 miles an hour, according to Tesla. (The 27 miles an hour is a limit of the charger; not the limit of a 50-amp 240 circuit with a NEMA 14-50 plug.)
I have also done a lot of charging on a standard wall outlet, particularly at our family house in Wolf Laurel. We usually stay for a few days so trickle charging on a regular outlet worked. It adds 3-4 miles an hour.
I keep a heavy-duty extension cord in the car to use with the Tesla mobile charger which came with the car.
I recently sprang for Level 2 charger as well at that mountain house that plugs into a NEMA 14-50 outlet (modern dryer outlet) ona 50-amp circuit. The Grizzl-E Classic from United Chargers can add about 40 miles an hour. It's a huge convenience factor since once you're off the interstate system and away from cities, fast charging options are still scarce.
Being able to "fill up" without leaving home is great.
Charging Cost
Tesla estimates I added 3,306 kWh charging over the last 12 months for a total cost of $643 and a "gas savings" of $829.
A kilowatt-hour costs about 10.5 cents from my utility, the Lenoir City Utilities Board. It is a flat rate for residential customers with no peak/off-peak pricing.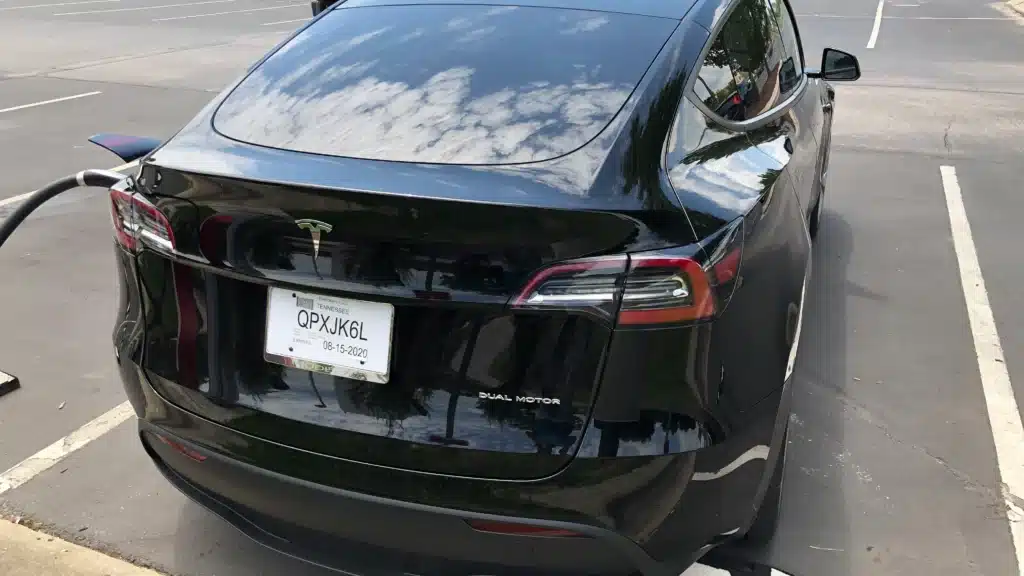 My average charge at Tesla Superchargers cost 36 cents per kWh. In the past year, 49% of my charging has been at home,18% on regular electric plugs or Level 2 chargers while away from home and 33% at Superchargers.
TeslaFi, a "data logger" for Teslas, calculates that over the lifetime I've had the car 66% of the kWh added to the battery have been at home or other AC sources and 33% at Tesla Superchargers, which are DC. Just 0.8% kWh have been added by non-Tesla Superchargers (Chargepoint CCS chargers, which are also DC).
The EPA estimated the 2020 MY Long Range model to have 127 MPGe (miles per gallon of gasoline-equivalent) in the city and 114 MPGe on the highway.
Buying Experience
While direct purchase from the manufacturer via the Tesla website is easy and greatly preferred to the traditional auto dealership experience; the delivery experience can be less so, sometimes much less so.
At the time I ordered, the closest Tesla Service Center to Knoxville was in Brentwood outside of Nashville so my pickup was scheduled there. Once the car left the Fremont, Calif. factory, Tesla didn't seem to know where it was until just a few days before arrival.
The estimated and actual delivery dates and times change and I was unable to pick up the car when Tesla wanted me in early evening on June 30.
That date is key and should be something anyone thinking of buying a Tesla should aware of. It was the end of a fiscal quarter, and Tesla tries to complete as many sales as it can as the quarter ends. It's crazy time.
Once I told my Tesla contact it didn't work for me to come from Knoxville to Nashville on little notice for a pickup at that time, my car's vehicle information number disappeared from my account.
It wasn't mine anymore presumably so they could offer it to someone else as a last hour end-of-the-quarter sale.
I was pissed; still am.
I was put back in the queue after the close of the quarter and soon got a new VIN assigned and a delivery date of July 16.
Because of Pandemic precautions, the Service Center was closed inside to customers. All the paperwork on my trade-in and the purchase were done under a hot July sun. The Tesla rep was in no mood for me to do a thorough checklist of the car for issues. She said something to the effect that imperfections give it personality. Yeah, right.
(There are lot of Tesla checklists out there.)
Because of the Pandemic, I probably didn't get what had been standard new owner overview of the car. It was basically, make sure you have the app connected to the car, charge in Cookeville on the way home and here's the gear stalk and "go pedal. And off they sent me to drive Nashville's fun interstates.
Luckily, I made it through Nashville's interstate tangle to Interstate 40 east heading to Knoxville. By the time I got to Cookeville, the car was in Tesla's system and my app, and the cameras had calibrated
I was able to charge. Not sure what I would have done if that hadn't worked.
A few days later I did have Tesla Mobile Service look at a panel gap issue. The tech was able to adjust the rear hatch to correct the issue, but some others were "within spec."
That actually was a good result for being among one of the first 20,000 and the production ups and downs of the early Pandemic months.
Range / Battery Degradation
The official range of my car new was 316 miles. A few months later, in October, the official range was increased to 325 miles via software tweaks.
TeslaFi says the highest range it has calculated in my car is 320 miles and the lowest is 287 miles.
It has my starting range at 314.69 miles. At the current figures, in three years I've had a range loss — or battery degradation — of 7.87% from the high point in December 2020 and 6.15% from the starting point in July 2020.
The range of my car is average for cars tracked by TeslaFi from the same model and similar mileage, but it is a small universe of 15 cars. My range is better than 60% of its peer group, but 0.4 miles below the average.
The calculations change with each charge. As recently as late May, my car had an estimated range of a tad over 300 miles.
The chart below shows the change in TeslaFI's estimated 100% range. The blue line is my car and the green line is are MY's with similar mileage.

Tesla claims the battery loses about 12% over 200,000 miles.
Back to the simple question of "how much range does it have."
The above numbers have little to do with actual range on a trip, which are affected by average speed (more 75 mph will really reduce how many miles you can go on a kilowatt-hour of energy), weather temperature, weather conditions (rain, snow), wind, elevation and the weight of passengers and cargo.
You also unlikely to have trips that start with a 100% battery and end with 0%. It's not very good for the car if you.
My average Watt-hour per mile is 262, which works out to about 3.8 miles per kilowatt-hour. That suggests a max "real world" range of some 285 miles based on the average of all miles I've driven in the car.
(Here's a handy calculator to convert Watt-hours per mile to miles per kilowatt-hour.)
My max range is a bit of guess because Tesla does not clearly say how many kWh the battery holds. It is often reported as 75kWh, but the reported values vary and it's not clear if that is the total or the usable charge.
At 65-70 miles an hour my average Watt-hours per mile rises to 287, or 3.5 miles per kilowatt-hour, or about 262.5 miles in range.
I avoid the whole mileage range issue by switching the display to percent of battery left instead of miles. It makes a lot sense to do it that way.
The real questions on a road trip is 1) how many charging stops do you need to make and 2) for long.
And how much charge do you need to have left when you arrive. If a charger is nearby, not so much; if it's 30 miles away and you need to drive around at your destination, too, you have to factor that in.
Percent of charge left — instead of miles — is perfect for analyzing those scenarios.
On a long trip, I don't mind stopping every two to three hours for 20 minutes. You don't stop to "fill 'er up;" you stop to charge enough to make it to your next planned stop. Charges that last more than 30-35 minutes test my patience.
"Range anxiety" has not been an issue. I usually have 10 to 30% of the battery capacity left when I arrive at a charger. The car's navigation system does a fantastic job at figuring how far it can go taking all the factors into play like recent average speed, temperature and weather. Just trust the car.
I do use the website/app A Better Route Planner to plan trips in advance. The car and ABRP often have different plans on where and when to stop to charge.
Maintenance
I have never taken the car into a service center for maintenance or repairs. Everything has been done by Tesla mobile techs or, in the case of tires, by Discount Tire.
Tesla mobile service is wonderful.
– The back hatch was adjusted for a panel gap issue (free).
– The cabin air filters have been replaced three times, roughly yearly. The manual says they need to be replaced every two years, but they A/C has started to get an "old sock" smell for me after about a year. The first time, they also used a cleaner, but the last two times they only replaced the filters.
– The wiper blades were replaced as part of the recommended two-year service.
– The 12-volt battery (yes, it has a regular car battery, too) was replaced at three years. It had not failed when I had it replaced, but I was getting ready for a trip and thought it might be wise. The mobile tech said it appeared to be on the way to failing. Tesla gives a warning to replace the battery when it gets near failing, but I had not gotten that.
– Tires (see tire section below)
I'm on my second paint touch-up kit to try to cover paint chips. I opted not use put any paint protection film or ceramic coating. Way too expensive.
People post on social media about the rocker panels getting beat up, but the worst place on mine is on the hood around where the Tesla "T" is.
Before I got the car, I got a fabric sunscreen for the inside of the big glass roof, but have never used it.
My advice: Even if you're having to wait weeks to get the car, hold off buying accessories until after you have it and have driven it awhile to see what you actually need. There's a large cottage industry around Tesla accessories and you could spend a fortune buying all of them.
Yes, I have some "curb rash" on the tire rims; it's hard not to with the low-profile tires. I bought a repair kit, but haven't used it. It hasn't bothered me enough, yet.
My MY came with a mobile charger and 120 plug adapter. I bought a NEMA 14-50 adapter (fits modern dryer outlets), but it's never been used. I do use the SAE J1772 adapter that came with the car.
Full Self Driving
"Full Self Driving" was $8,000 when I bought my car. It is $15,000 in the summer of 2023. I am on the Full Self Driving beta software.
I think it works really well on interstate highways and reduces fatigue on long drives. You still need to be always ready to intervene. It doesn't take much rain to "degrade" it.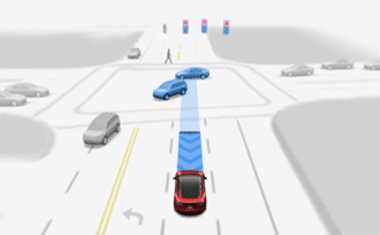 On city streets and East Tennessee curvy back roads, I don't use it often. While it seems to turn late into curves, my biggest concern is it will do something unexpected and I will get rearended. It does sometimes stop to think about what to do.
The monthly subscription model was not available when I purchased the car with FSD. Unless you are confident FSD will work on your daily drive, the subscription plan makes more sense.
Except for the "amnesty" option during this quarter, Tesla does not you transfer FSD to a different vehicle. And it can't always be transferred with the car on a trade-in. You can transfer FSD in private party sales, but probably not in a trade-in to a dealership. And people have been unhappy with the value Tesla is assigning it in trade-ins.
FSD is merely a software license, but one you cannot transfer from one "device" to another (except in this current quarter). That's nuts.
While getting better, "Full Self Driving" is more marketing hype than technological wonderment. By the time the software gets to "Full Self Driving," I suspect Tesla will say, the software is,but your hardware isn't and it will only cost …
Software updates
I get more software updates on my Tesla than I do on my phone. I have had 62 software updates, an average of one every 17 days, according to stats from TeslaFi.
Tires
EVs use up tires faster than gas cars due to quick acceleration and vehicle weight. The OEM Continental ProContact RX tires on my MY lasted 27,367 miles. Compared to the experience of others I've seen that is pretty good.
I averaged 260 Wh/mile with those tires.
I replaced them with a set of Vredestein Quatrac Pro tires, not an EV specific tire, but rated XL and a tire that has its fans among EV owners. They are alot cheaper, too.
I don't think I'll get quite the efficiency as the OEM Continental tires, but I suspect it will be close. I am tracking it, but don't have enough mileage to say yet.
Noise seems to be about the same, albeit not exactly the same sound, which is surprising since the Continental tires have a foam inner liner.
The Tesla does not have a spare tire. I did get a nail in one Vredestein tires after only a week or two. Discount Tire replaced it for free, but it was a few days before the tire came in from TireRack. I just kept pumping it up.
I carry a set of jack pads in my car, but have never used them. I have fears about some garage placing the jack at the wrong place and penetrating the battery, but Discount Tire has jack pads and is very savvy about the cars. I guess if a car is going use more tires than normal, it makes sense for a tire store to cater to them. I've read horror stories about tire retailers.
I carry a tire pressure gauge and an electric tire air pump in the car. There is on-screen tire pressure reading just a swipe away, too.
I have tire plug kit, but I'm not sure I could plug a tire. Piece of mind purchase.
Resources
There is a lot of great information about Teslas available: YouTube channels, Reddit groups, local and regional Facebook groups and the Tesla Motors Club, Subscribe, follow, join all of them.
I find these websites, apps, services really useful:
– TeslaFi. Pulls data from your car and gives you a rich data history about trips, battery life and charging among other things.
– A Better Route Planner. Great tool to plan trips. It can also be set to pull real time data fromt eh car for greater accuracy.
– Plugshare. An app that is a directory of charging location with photos, descriptions and user reviews.
Others that might be useful:
– There is a Tesla Voice Command app but I'm not sure if it's still being updated.
– In case I need to use a charger on another network, I have the apps installed and accounts set up for ChargePoint, Electrify America and Blink.
Referral Link
If you are reading as part of your buying research and found this useful, please consider using my referral link to make your purchase.